Suction plate- Wolf 4000KG (8800lbs)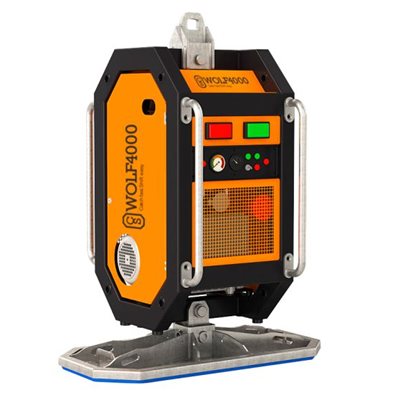 Press and move to zoom.
Mouse over image to zoom.
Suction plate- Wolf 4000KG (8800lbs)
Product Code: CS-WOLF4000
WOLF4000 machine is designed for lifting concrete elements with a maximum height of 4000kg .
Works with a gasoline engine Honda GX200
Main advantage of Wolf4000
- Robust structure and compact dimension
- Hight performance pump (60m3 /h )
- Radio remote controller
- Fast configuration (ex : The use of various suction cup and the adaptation of the machione to te forklift , the use of a beam to hang several suction cups )
- Multitasking capabilities - assembly of various concrete elements,
- Non-invasive assembly and the ability to move elements that do nott have their own suspension .
- Can be operated even in confined space .
- The highest safety standard compliant.

Pad included: 39''x 28'' ( 3740 lbs )
More pads and accesories available